Printing & Print Media
With the huge range of printed products, paper types, file types and capabilities it's a full-time career staying on top of the latest in print media. We do it so you won't have to. Our track record for helping clients thrive in this environment will see you through. If you have any questions or are just thinking about a print media project let us know so we can help you do it right.
Business Printing
When it comes to business printed communication it's critical to get what you want and what you need. Count on our experience to get you there.
Various Business Card Styles and Layouts
Business Card
Full Color
Custom Design
Heavy Stock
Unique Papers
Textures and Foils
Duplex and Triplex
Layout
Fringe Salon Decals
Assisted client in concept through print supply of a low-cost, high-end label solution for store-brand personal care products.
Concept
Design
Print Media Consultation
Purpose Specifications
File Management
Delivery
Flat Fee Printing
Helped our client refine and communicate their simplified approach to home financing. Ultimately provided these as flyers in addition to initial concept assistance, layout, photography and setup.
Print Media Design
Print Production
Photo Studio
Concept Communication
On Site Delivery
Carnegie Hill Publishing
We loved this creative challenge from an academic perspective. How to quickly and creatively communicate the big career ideas? Thanks for this creative opportunity!
Poster Printing
Layout
Conceptualization
12 x 19" Final Size
High Definition
Graphic Design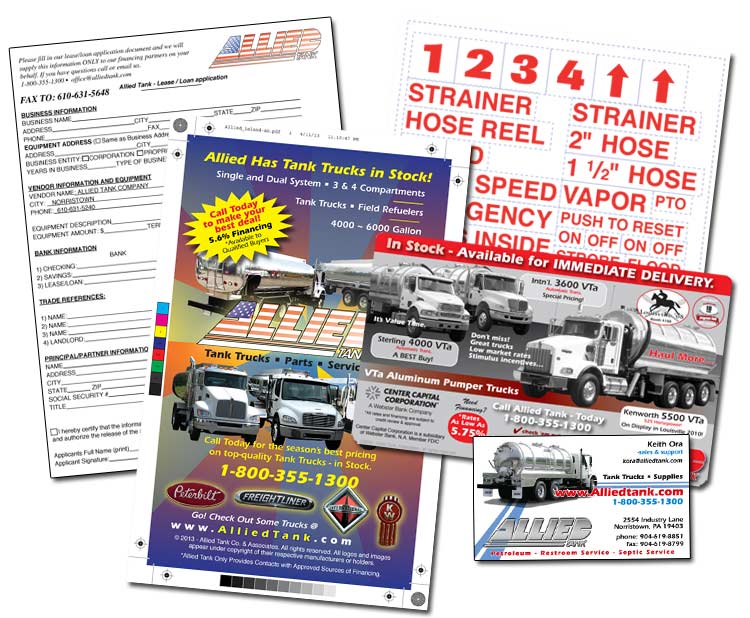 Allied Tank Print Media
We provided this client with a wide range of print media products. We enabled them to easily maintain highly consistsent visual media across various print publications.
Magazine Layouts
Stationery
Product Decals
Flyers
Post Cards
Mailing Services
Data Processing
Display Signage
Aaron Excavating & Septic
Provided our client a Post Card and mailing list to coincide with their updated website. No better way to get the word out directly to existing customer and a large segment of potential customers.
Print Design
Dual Media Marketing
Photography
Copywriting
Market Mapping
Print Production
Mail Deployment
Swan Cove Luxury Estates
A combination of style development/enhancement and print production for a planned luxury home division.
Graphic Design
Booklet Layout
Brand Refinement
Elevation Plans
Booklets
Print Planning
A Walk Around The Block
The areas premiere petsitting and pet away care to help owners feel great even if they need to leave the little ones behind. StormDesigns systems of forms and targeted fun marketing in print makes it happen and reinforces their brand.
Introductory Forms
Brochures
Business Cards
Magazine Advertising
Pantone Matched
Utility Tablets
Graphic Layout
Print Production
HoneyPeño Product Labels
Product ID and Package Labels for a new line of Sweetened Hot Marinade. Chef Emil Foods needed product labeling that communicated the essence of a key seasoning of their commisary product line for the greater marketplace.
Label Printing
Logo Design
Bar Code Detailing
USDA Ingredient Spec
CYMK Concepts
Spot Color Concepts
On Site Delivery
Previous
Next
Business Printing
Graphic Design
Advertising Layout
Form Design
Decals & Labels
Stationery
Brochures
Flyers
Note Pads & Post-Its
Custom Booklets
Envelopes
Packaging
Directions/Instructions
ID Certificates
Badges
If you have a project in mind or questions about something you're developing please
contact us to learn more
.