Covid19 and your business.
Obviously Covid19 (aka Corona Virus, Novel Corona Virus 19, C19) has now gone to become everyones business. As a business specializing in various digital tools we are in a position to provide some assistance to others and specifically our clients and friends.
StormDesigns is up and running and able to serve your design development and marketing needs. Perfectly equipped for internet services work so we're reachable at all standard office hours and often non-office hours.
We understand how extraordinarily disruptive this is to everyones daily life and plans. We want to do what we can to help. If you are a client and we manage your website please contact us regarding the addition of any situation-specifc message we should add to home pages. Let's remember that we have amazing digital tools we can use to stay in front of customers. Please use email and social media to stay connected. Below this we're linking to important resources that can help each other understand what is going on and act in ways which protect each other and ourselves. Please contact us if you want to share links or to have a message added to your website or just to connect.
Last Update: 3/16/2020
Useful Links
The Covid "Dashboard" - This website tracks of the numbers worldwide of "confirmed cases, serious cases, deaths and recoveries". I'm finding it useful to understand the best available picture of what is going on. This was developed by a VERY intelligent 17 year old High School student in the US geocenter Seattle WA. Ncovid19.info
Social Distancing - As a means to prevent spreading/getting this infection appears to be the best tool we have immediately available as treaments and vaccines are being developed. It's clear to me that once tests are widely available we will be able to isolate individuals who know they are carriers. Until then, we should follow best practices to isolate ourselves. Tests will be coming soon and we will know more.
Video Chat - The time has come for Jetzons style video chat meetings. Meet George Jetzon, this is a powerful platform we've been using for 6 months to communicate with clients, simple effective and safe.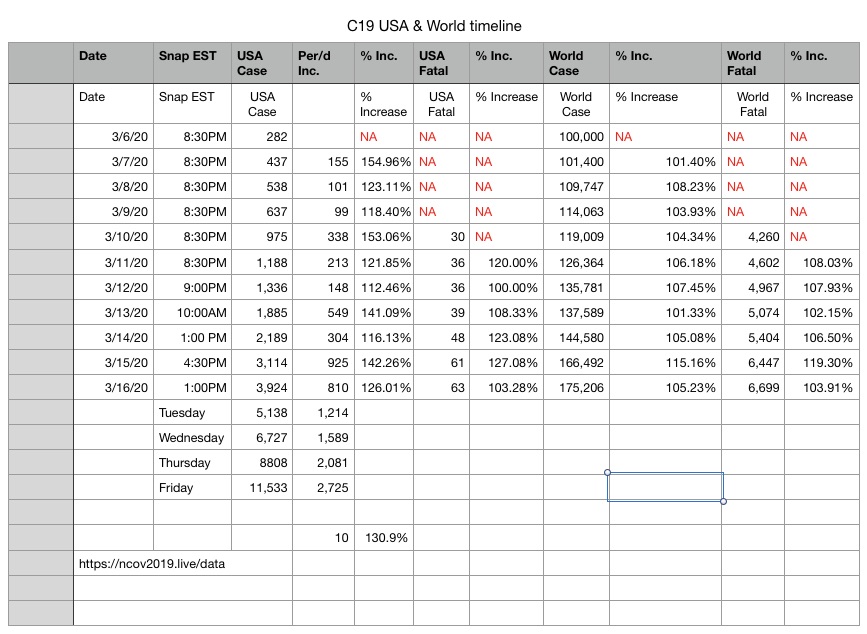 Now some thoughts of mine on the overall situation. I've been tracing the numbers for a couple of weeks and also learning about the virus and what is going on in the world as a result. My overall thoughts are, we will be OK! The only "wild cards" now will be how quickly tests become available.
I believe at this point that stores will be getting re-stocked within a week or so as people decide they have plenty of "TP" cleaners and pork. I believe many will be shocked as numbers come to light regarding confirmed cases once full public testing kicks in (a few weeks away). That said, we're pretty smart as a species and we'll settle into a post C19 reality. We will also feel pretty proud of ourselves for taming such an insidious beast. It appears banks and big businesses are prepared to do their part to be fiscally flexible and hopefully most small businesses will find ways to manage through.
Whatever we can do to help, consider us your biggest fan and we want to do our part. let us know so we can help you do it right.
Thank you for reading. I hope you are minimally inconvenienced by all these strange goings on in our world.
Business Printing
Graphic Design
Advertising Layout
Form Design
Decals & Labels
Stationery
Brochures
Flyers
Note Pads & Post-Its
Custom Booklets
Envelopes
Packaging
Directions/Instructions
ID Certificates
Badges
If you have a project in mind or questions about something you're developing please
contact us to learn more
.